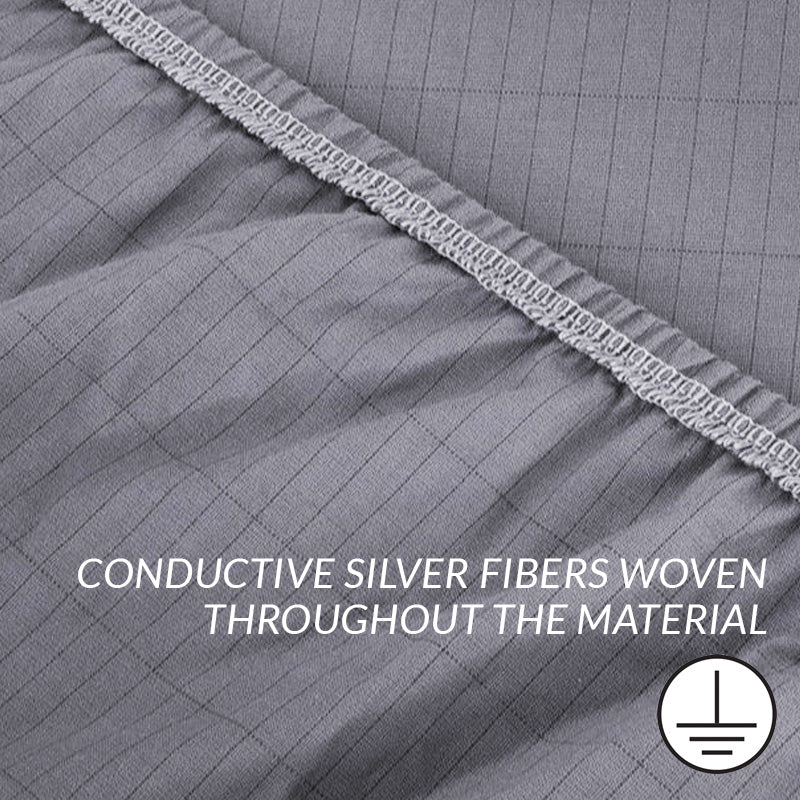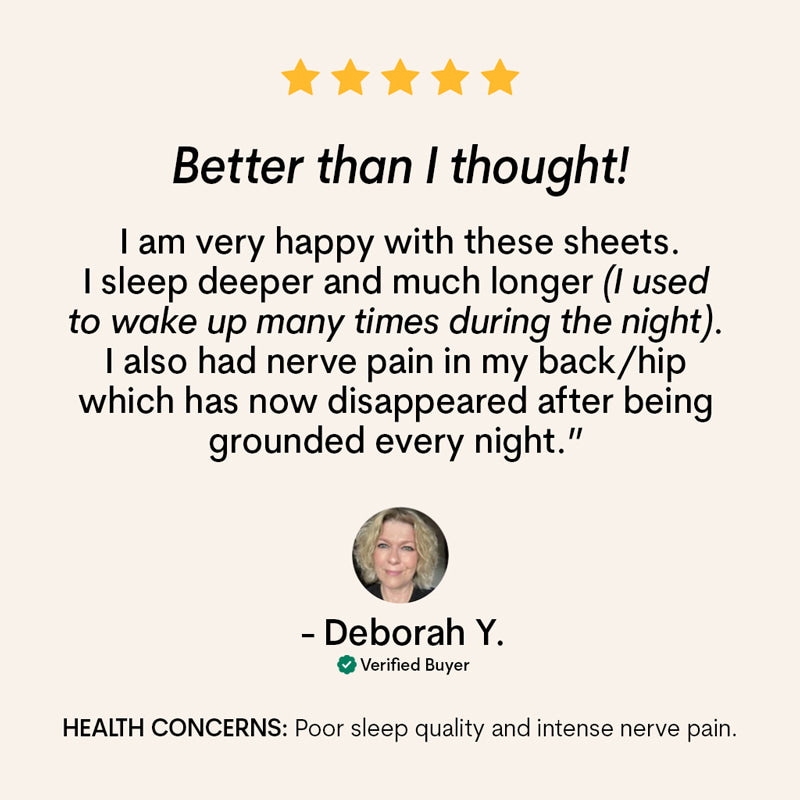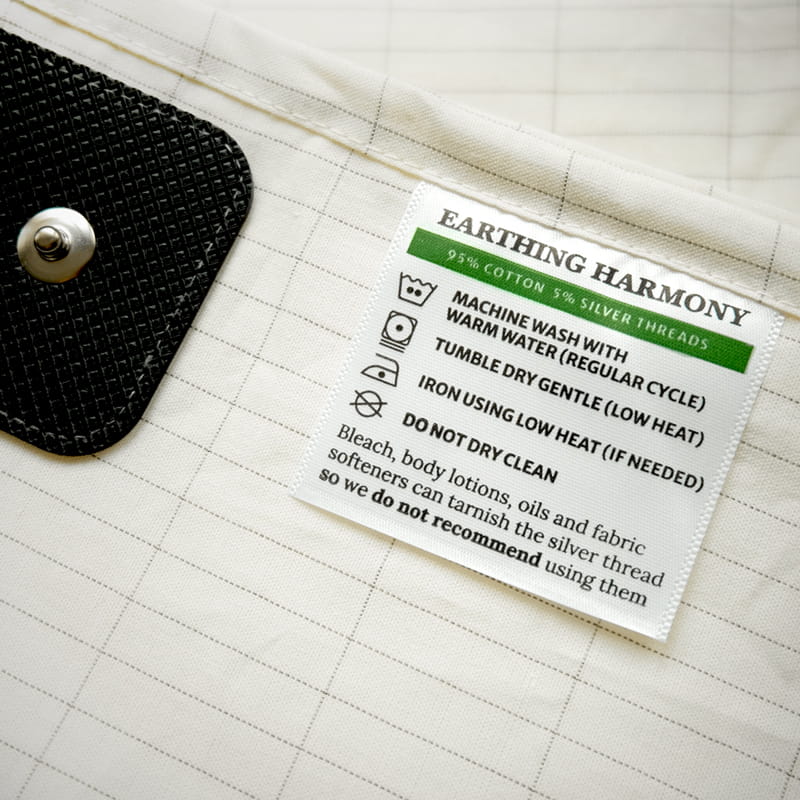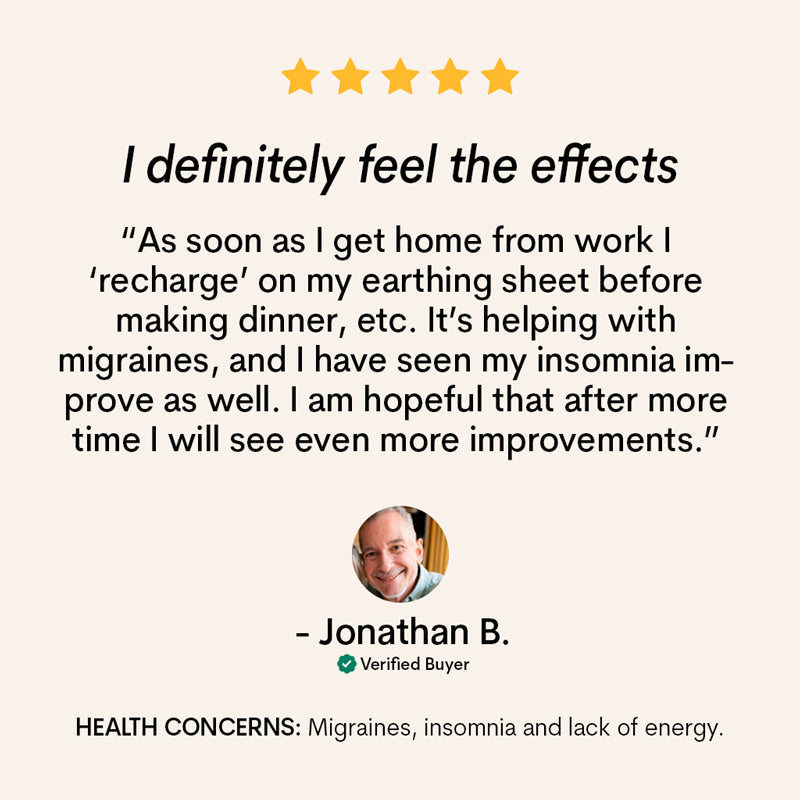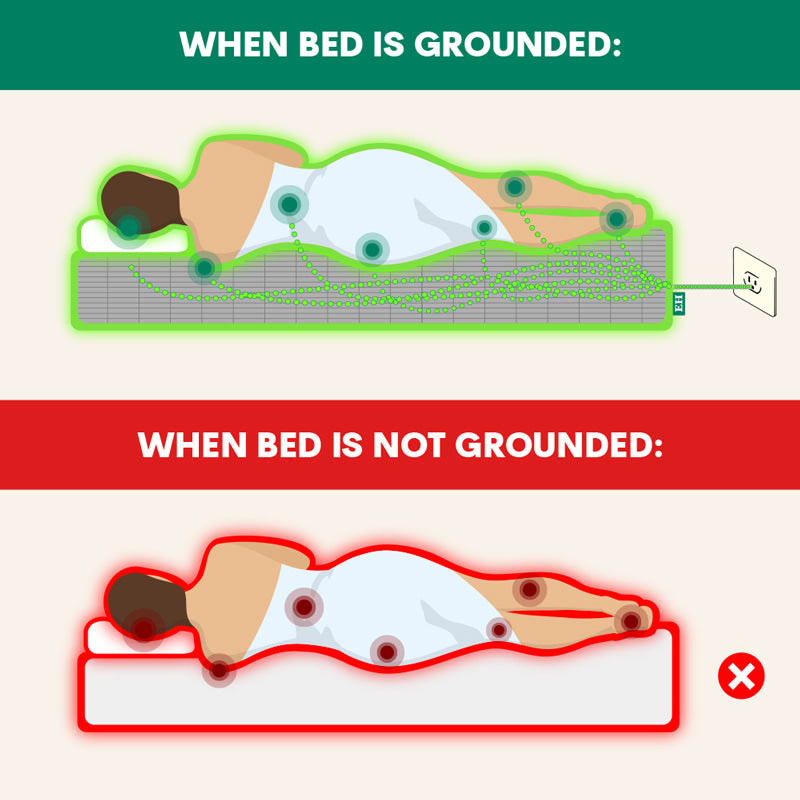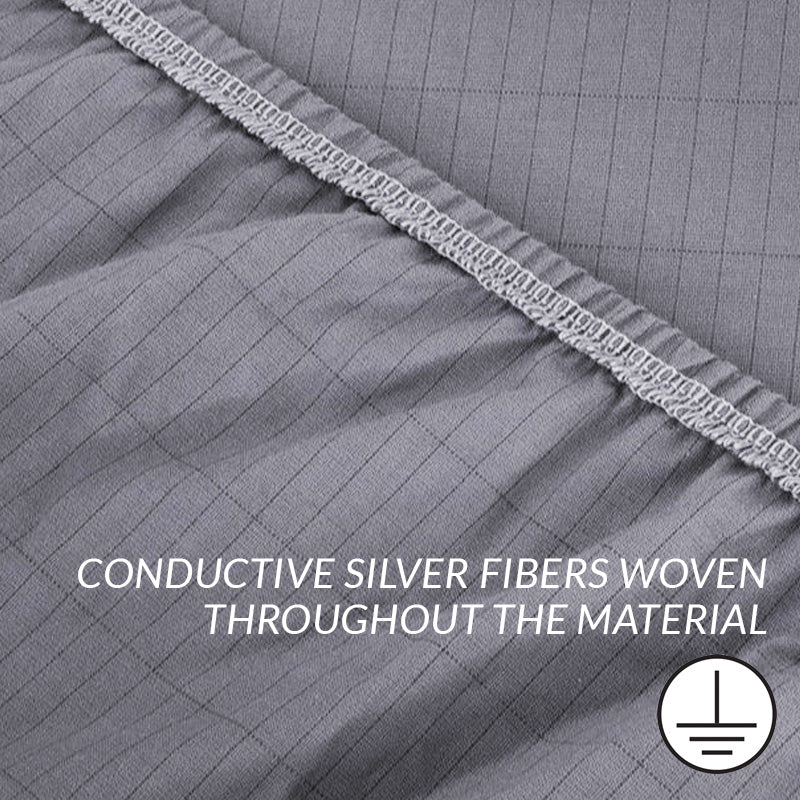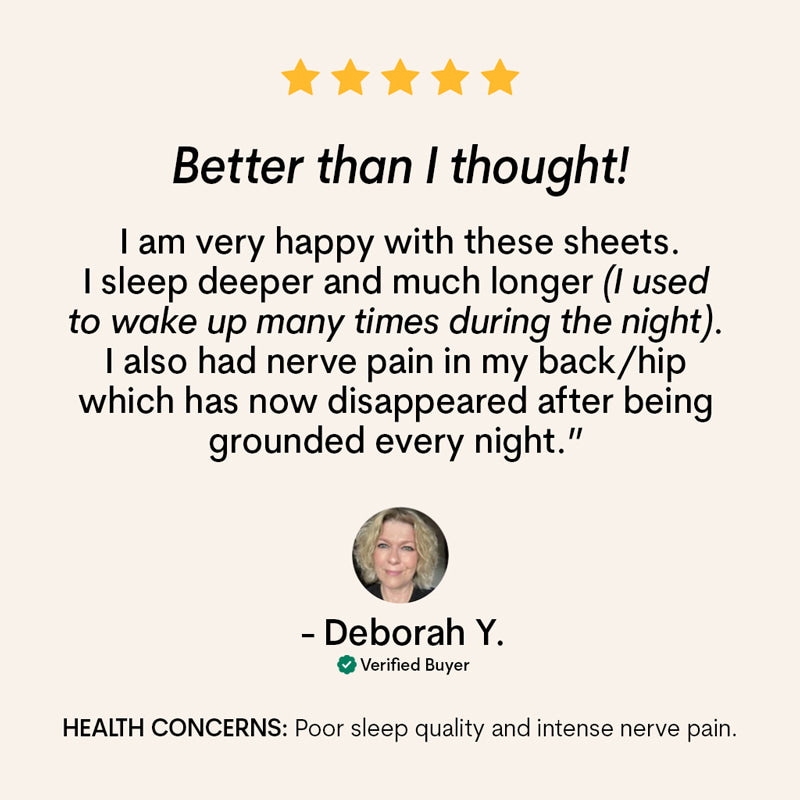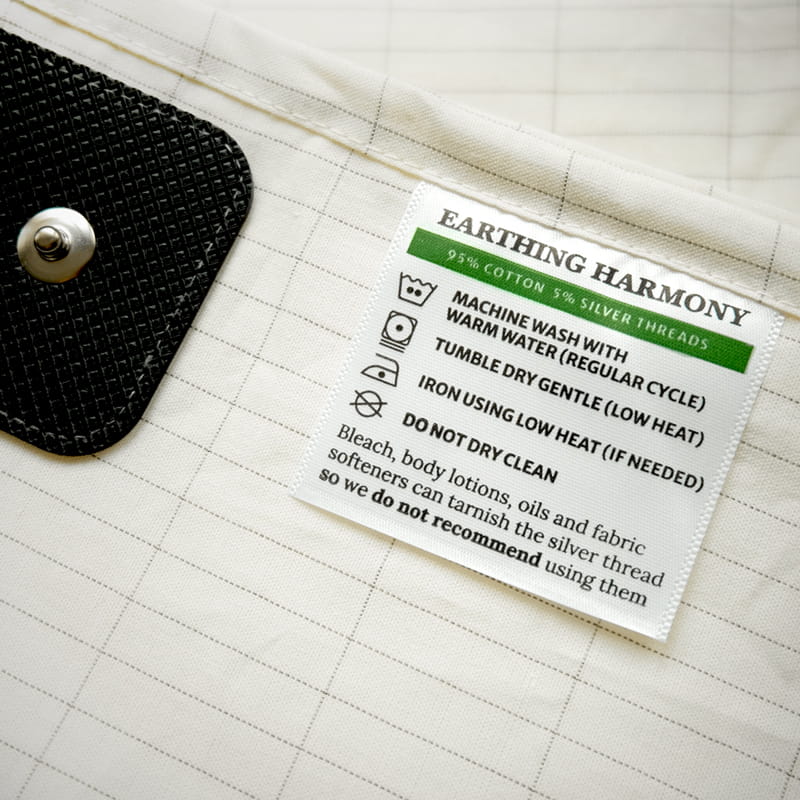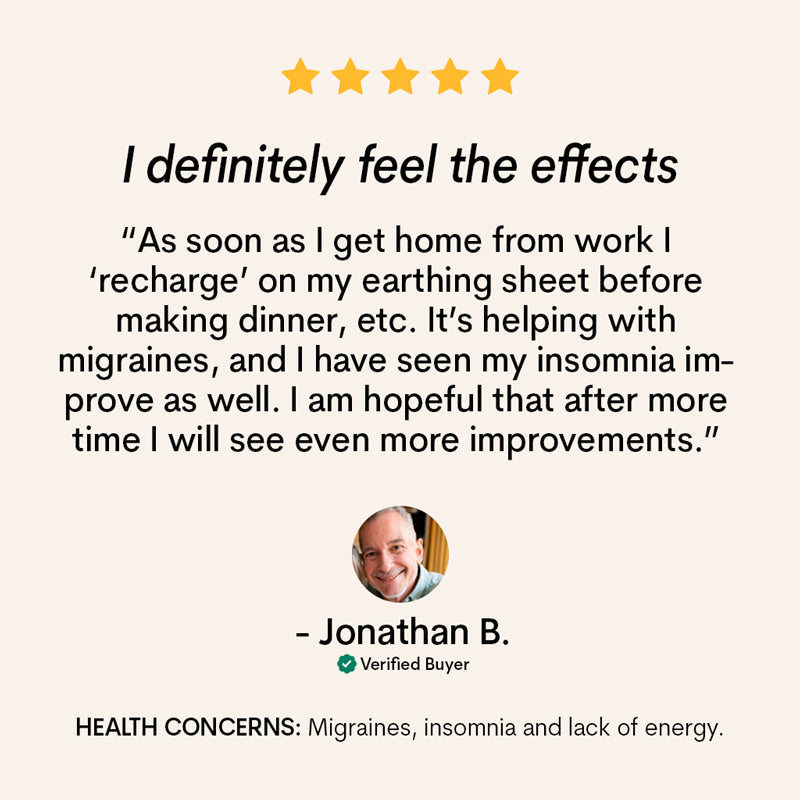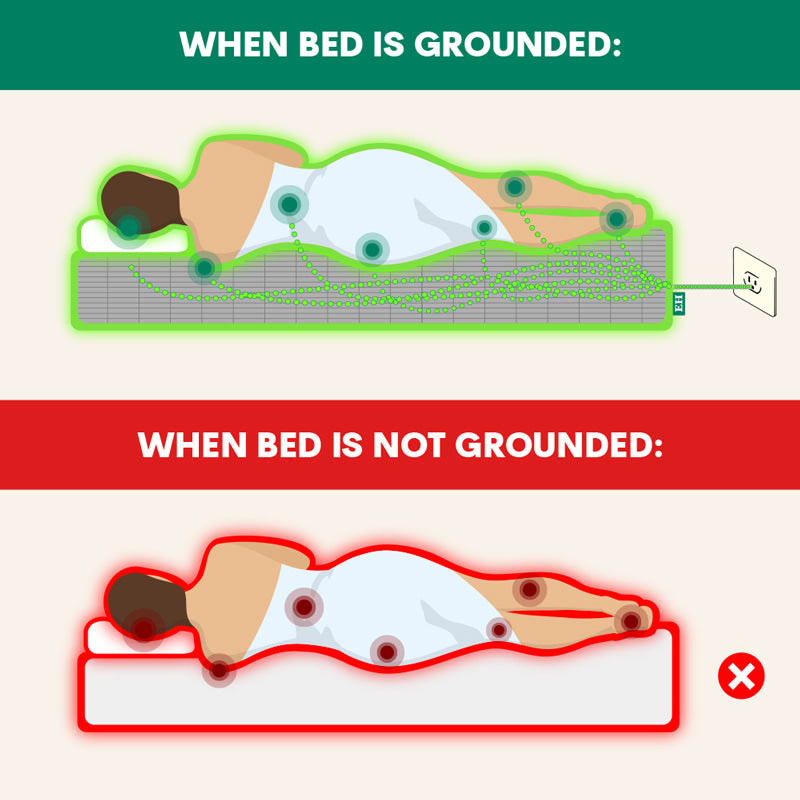 Earthing & Grounding Sheets
"I just love it. The results have been amazing." - Emilia H.,
Sale price
$89.90
Regular price
$127.90
Tax included.
Add to cart while the Free Shipping option is still available*
What Are Grounding Sheets?
By connecting to the endless flow of beneficial electrons from the Earth's surface, grounding sheets unveil the profound healing power and benefits of Earthing.

This vital connection supports your body's natural healing and regenerative processes, promoting optimal health and wellness, especially during sleep.
Why Sleep Grounded?
Reap the amazing benefits that nature naturally provides. Prolonged grounding is especially beneficial during sleep when your body undergoes its most critical healing and regenerative processes, leaving you feeling more energized and rejuvenated than ever before.


Free electrons from the Earth help to re-balance your body, stabilize it's bio-electrical system and fight free radicals. The stream of electrons work as anti-inflammatory, pain-relieving, anti-aging antioxidants — squelching inflammation, all night long.


Feel your stress melt away as the healing electrons from your Earthing Therapy Sheet work to re-establish your body's natural electrical stability and mitigate damage caused by harmful manmade EMFs.
Published research on Earthing indicates that a broad array of favorable health-related results including:
Better sleep

Eliminates or substantially reduces inflammation

Eliminates or substantially reduces pain
Improved blood flow

Normalizing effect on the stress hormone cortisol

Calming effects on the nervous system
Reduces blood viscosity

Improves glucose (blood sugar) regulation

Prevents calcium and bone density loss, reduces indicators of osteoporosis
Increases metabolic rate

Influences thyroid gland function

Reduces muscle damage, accelerates recovery from strenuous exercise
Speeds wound healing

Improves immune system response to trauma and injuries

Normalizes muscle tension
Reduces frequent nighttime urination

Reduces PMS symptoms and hot flashes

Anti-aging effects
The Earth is Like a Gigantic Battery
that contains a natural, subtle electrical charge—a special kind of energy present in the ground due to lightning strikes and atmospheric ionization.



For safety and stability, most everything in the electrical world is connected to it, whether it is an electric power plant or your refrigerator. That's what the term "grounded" means.
Being grounded also applies to people. When you are electrically grounded, you feel:
✓ Centered
✓ Solid
✓ Strong
✓ Balanced
✓ Less tense
✓ Less stressed
Increase in Illness
Many people live with daily pain and constant stress, anxiety, depression, inflammation and fatigue. They feel out-of-sorts — not centered, strong, or solid.

Doctors often can't find the cause and resort to prescribing "band-aid solutions" and medications that produce side effects like fatigue, poor mood, gastro-intestinal upset, and headaches.
There has been an increase in the number of people suffering from autoimmune (inflammatory) diseases. Fifty Million people in the U.S. are suffering from diseases including:
- Inflammatory bowel disorders (IBD)
- Multiple sclerosis (MS)
- Rheumatoid arthritis (RA)
- Lupus
Additionally, chronic inflammation is known to promote cancer, heart disease, Alzheimer's, wide-spread musculoskeletal pain and achy, sore joints..

Researchers are struggling to pinpoint conventional explanations and reasons behind the steep increases in a diversity of illnesses and widespread inflammation which is now characterized as the "Silent Killer".
Losing Touch with The Ground
You are a bioelectrical being living on an electrical planet. Your body operates electrically. All of your cells transmit multiple frequencies that run, for example, your heart, immune system, muscles, and nervous system. You're an electrical being first, chemical being second.
With the exception of humans living in industrialized societies, all living things on our planet are connected to the ground's electric energy. In industrialized societies, you rarely go barefoot and walk around outside or wear natural leather shoes that allow you to absorb the ground's energy.
For many decades, people have increasingly been wearing rubber and plastic-soled shoes that act as a barrier to the Earth's energy, insulating them from electrical contact with the Earth. People also generally don't sleep on the ground anymore, as many cultures have done throughout history. They live and work above the ground, even far above the ground in high-rises.

The truth is, you're disconnected. You're ungrounded. You are not in touch with the Earth. This disconnection is an overlooked factor in the widespread increase of many illnesses nowadays. Reconnecting could be simpler than you think; a grounding sheet might just be the key to bridging that gap.
What Are The Healing Benefits of Grounding Bed Sheets?
Scientific research spanning over more than a decade indicates that your body can be protected and helped—and that you feel better—when you electrically reconnect to the Earth. That is, when you are grounded.

Reconnecting with the Earth helps us create the necessary neutral electrical charge in our body so that we have the opportunity to heal, and grounding sheets can facilitate this vital link. The figure below shows the results of a study that examined the effects of being grounded while sleeping over the course of eight weeks.
Improved facial circulation (right image) after 20 minutes of grounding, as documented by a Speckle Contrast Laser Imager (dark blue=lowest circulation; dark red=highest circulation). Image Source: Scientific Research Publishing
Earthing has been shown to increase the surface charge of red blood cells, thereby reducing blood viscosity and clumping. The red blood cells maintain separation as a result of their surface charge, allowing for a more orderly single-file flow into the capillaries.
Grounding appears to be one of the simplest and yet most profound interventions for helping reduce risk of cardiovascular events. The circulatory benefits of earthing increase the health and recovery of our body's tissue by improving the delivery of oxygen and nutrients throughout the body.
Pain Reduction and Expedited Wound Healing
Earthing after injury can reduce or even prevent the hallmark signs of inflammation: redness, heat, swelling, pain, and loss of function. Researchers have confirmed expedited recovery of painful chronic inflammation using medical infrared imaging.

Pain reduction from earthing helps both newly formed wounds as well as the many types of chronic pain, such as arthritis. By producing measurable differences in the concentrations of white blood cells, cytokines, and other molecules, earthing benefits the inflammatory response.
Sync Your Internal Clock for Better Sleep
Earthing yields quantifiable changes in diurnal circadian cortisol secretion levels that improve sleep. Grounding's regulating effect on circadian rhythm prepares your body for sleep hormonally, while its stress-reduction qualities lower anxiety and other symptoms that can make it hard to fall or stay asleep. Earthing, facilitated with grounding sheets, helps prevent insomnia, quickens sleep onset, and results in a deeper, more restorative night's sleep.
Cognitive Function and Neuromodulation
If your body is experiencing chronic inflammation, one of the first functions to be affected is cognition. All-too-common results of this are brain fog, fatigue, irritability, and problems with mood, memory, and mental processing. The antioxidant and anti-inflammatory mechanisms of electrons via grounding make earthing a potent way to maintain normalized function in the brain. Clean up chronic systemic inflammation with regular earthing to experience life with minimal neurological impairment.
Earthing & Grounding Sheets
FROM AWARD WINNING FILMMAKERS
JOSH AND REBECCA TICKELL
THE EARTHING MOVIE
This documentary will take you on an eye-opening journey to explore the remarkable power of Grounding, also known as Earthing. You will learn about the scientific phenomenon of Earthing and discover how this simple practice can promote significant healing within your body.
Watch the video below for instructions on how to set-up and wash your Earthing Bed Sheets
What People Are Saying About Our Grounding Sheets
"Honestly, I am 100% amazed by this thing. Within a week I noticed a major difference. Slept better and no aching back waking me up! I am so happy I bought these earthing sheets."
"My energy has been restored! I'm so happy!!! I love my family, so I got everyone a sheet. My sincere thank you for your amazing Earthing products."
"I've been in terrible pain for years. After getting grounded, I finally feel like I have my life back. Thank you, thank you, thank you Earthing Harmony!!!"
"I bought my Mum one of these a few weeks ago to improve her sleep. Shes absolutely sleeping better and doesnt get static shocks anymore when she goes to hold metal handrails in stores to go down the stairs. It may not work for everyone, but my Mum is loving hers"
"I've been sleeping on the fitted grounding sheet for a month now. Lifechanging! That is what I can say! I was able to build off my sleep meds. My calming meds has also stopped since this week. My body is recovering fantastically from my burnout and I am slowly regaining strength to undertake everyday things. I also regularly put my children in my bed if they have a cold or a fever, it works great!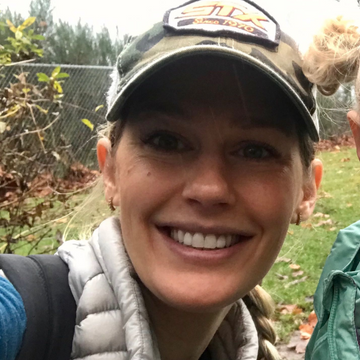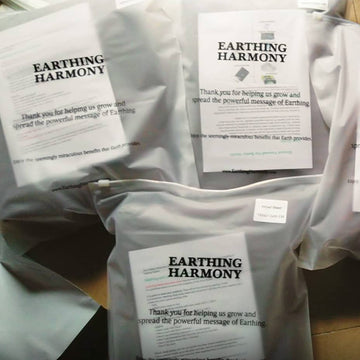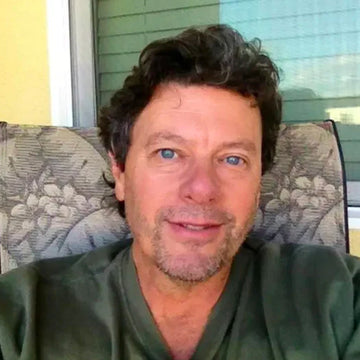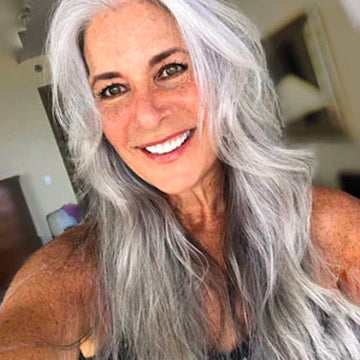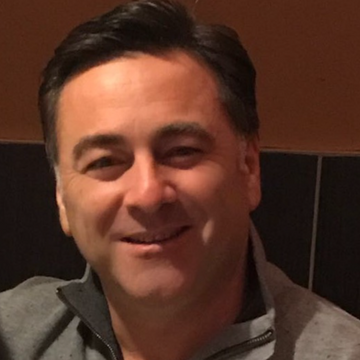 More Grounding Sheets Reviews: Hear Real People Share Their Stories..
Kayla has now been sleeping on Earthing sheets for several months, and her sleeping patterns have drastically changed. She's getting a much deeper, more restful sleep and awakes refreshed. Another unexpected benefit was the reduction of static electricity. Listen as Kayla shares her experience after just couple of minutes on the sheet.
Erica had been suffering from various injury-related pains for nearly a year before discovering Earthing. She dove deep into research and experienced immediate benefits in her own life. She is now attempting to educate everyone she meets along the way, because many people are unaware of the benefits. Hear Erica tell her side of the story...


Creating a Better Tomorrow:
Our Pledge to Positive Change
By choosing our Grounding Sheets, you are not just investing in your own health and wellness, but also contributing to a better future for the planet. With our commitment to giving away 1% of our sales, we are working to reverse the effects of climate change and promote sustainable living. Join us in taking a step towards a healthier and happier world.
100% Money-Back Guarantee
We believe our products are high-quality. To back this up, we provide all customers with a 45-day money-back guarantee.

We understand buying items online can sometimes be a daunting task and want you to feel certain that there is no risk shopping at Earthing Harmony
Don't hesitate to contact us for more information: 
info@earthingharmony.com
More Reviews of Earthing Bed Sheets..
From skeptic to believer
"I had purchased the grounding sheets in hopes to decrease inflammation in my husband's body. I am a wellness provider that works on self-care techniques to activate self healing within people. I wasn't expecting to get much benefit from the sheets myself, but I instantly noticed sensations and energy flowing through my body after the first day. My husband absolutely loves them and recognizes the calm it provides for him. I truly believe they are helping. He now wants the pillowcases. And this is coming from a man that is very skeptical about the benefits of grounding. :)"
THIS THERAPY IS GODSEND FOR ME!!!
"I have been experiencing a lower back pain/sciatic nerve pain for almost a year now. I have been using pain patches and sometimes some pain pills, which I really don't like, very often. I have also been getting some temporary relief from using my teeter hangup inversion table. Since I started sleeping on this grounding bed sheet, I have not used any of those pain relievers. I wish I had known about this years ago to help my husband who suffered so greatly before he passed away last year."
Crisp sheet and it feels really nice to get in to bed on
"I've definitely felt so much more rested and am getting out of bed with less aches in my legs (a fall out from my prolapsed disc) since using this sheet. There's also something really lovely about knowing it's on the bed. It's a cool, crisp sheet and it feels really nice to get in to bed on.

My Fitbit has been reporting my quality of sleep has gone up quite significantly since using the sheet."
Will be getting a second set
"I used to wake up sore every day and since using these I get out of bed like I did when i was in my twenties. I also used to never dream now I'm getting deep sleep and dream almost every night. The most amazing thing that I noticed is my wife used to complain about our mattress ever single day and how much she hated it. She hasn't made a peep since I put this sheet on!

I'm a believer and will be purchasing a second set."
Me and my dog both love!!
"I work with and around lots of computers and servers and switches. My dog is my service dog so is with me as well.

After getting the grounding sheet, we both sleep much better at night now and I feel lots better. Less joint and muscle pain overall, which is something I struggle with a lot.

I can feel the electricity leave my body the first 20-30 minutes I'm laying in bed."
Kacy Anderson.
Kennewick, WA
Restful sleep
"It is very easy to use. The long cord is convenient. I've had it for several months and my sleeping patterns have definitely changed. I get a much deeper and more restful sleep and I awake refreshed. It's easy to clean, I just wash it on the delicate cycle.

I will be getting one for my cousins. I have cats and dogs that are older and not well in health. They act much better after an hour on the sheets. I highly recommend."
I think this actually works
"I have some knowledge on grounding/earthing, but I live in a high-rise building with rarely any barefoot contact with grass (need to work on this this spring/summer!).

I really did not know if this was going to work, but I think it really does. I am glad I just went with an actual grounding sheet that fits on the whole mattress vs. just a partial sheet or something that lays on top, I don't think it would have stayed in place as well. I am definitely going to continue using this! I would buy multiple."
I Love it! Best sleep ever
"When I wake up, I can see a significant difference in the quality of my sleep and the way I feel.

Recently, I've been having a lot of neck ache since I started working from home. Going to sleep and waking up was really difficult on my neck and back, and I was constantly stiff!! My neck and back have felt so much better and more relaxed since receiving the sheet set. In the morning, I saw a significant improvement, and I've experienced an increase in energy throughout the day as a result.

I say, get them sheeettttttttttsssssss, they are so worth it!!!"
BUY THIS SHEET!
"Not sure how this works but it does! I have no problem going to sleep BUT I wake up at 2am and toss and turn EVERY SINGLE NIGHT. It's exhausting. I slept on this sheet and sleep hard and my BF said I didn't toss and turn at all.

The pain in my lower back is gone after 2 nights sleep on this sheet. 3rd night is tonight and can't wait! I bought the one sheet (not fitted). But now that I know it works, I'm buying the fitted for us."
Really amazing
"I'm shocked actually that I'm sleeping so well after buying the king sheet for our bed at home.

We went camping the other day and I forgot to plug in the rod we bought for the camper and I had extreme restless leg syndrome again. Plugged it in the next night and all was well. We bought the grounding rod for the camper.

Can't do without these grounding sheets.... EVER."
Cool and unique gift
"Bought this for my mom. She's been really into natural wellness and this was something she mentioned she wanted to try. Overall the quality seems pretty good!

Also, my mom said she while it is subtle, she feels more relaxed and refreshed after a good nights sleep. Either way it's a cool and unique gift and this seems to be the best grounding sheet on the internet right now!

I would reccomend this to anyone who is interested in grounding while they are sleeping.."
FAQ's
WHAT IS EARTHING? WHAT DOES EARTHING DO FOR THE BODY?
Earthing also known as Grounding, is simply connecting your body directly to the subtle, natural electrical energy that exists on the surface of the Earth.

You can do this by walking barefoot outside or by using "barefoot substitutes" like the ones we teach you about on our site. These original Earthing Harmony grounding products work by utilizing the ground port of home outlets or a simple ground rod kit to connect you to the Earth's energy.

Earthing Harmony products have the conductive materials which enables them to transfer the Earth's energy into your body when you have skin contact with them.
WHAT IS THE DIFFERENCE BETWEEN EARTHING AND GROUNDING?
Earthing and Grounding both refer to the act of reconnecting to the Earth's subtle, natural energy. Both terms are often used interchangeably.

However, some people differentiate between the two by using "Earthing" to describe the practice of connecting the body to the Earth's surface with direct skin contact, such as by walking barefoot on the ground. "Grounding" can also refer to the process of connecting an electrical device to the Earth to prevent electrical shocks and other hazards, which is a different context altogether. While this differentiation may be relevant to your electrician or engineer, for most people, the terms can be used interchangeably when referring to the practice of connecting to the Earth's surface for health and wellness benefits.

Reconnecting to the Earth's energy is as easy as walking barefoot outside in the grass or sand or on concrete.

Alternatively you can ground by using the original time tested, durable, and safe original Earthing Harmony brand products also known as "barefoot substitutes" which you can learn about on our site.
DO GROUNDING BED SHEETS USE ELECTRICITY?
No, our grounding bed sheets are cleverly designed to link you to the Earth's grounding energy without tapping into your home's electrical supply.

They come with a unique cord that, although it plugs into your wall outlet, exclusively connects to the grounding pin—the part dedicated to electrical safety. This component is entirely distinct from the electrical circuit, so it's electricity-free. Essentially, when you connect and use grounding sheets, you're harnessing the Earth's natural energy for grounding purposes alone.
HOW DO I KNOW IF MY GROUNDING SHEET IS WORKING?
To determine if your grounding sheet is functioning correctly, you'll need to check the grounding capabilities of your home's electrical outlets. If your outlet has a third pin — known as the grounding pin — it's intended to connect devices to the Earth's grounding energy, which is exactly what grounding sheets are designed to use.
In homes where outlets have this third grounding pin, they are typically connected to the Earth, but to confirm that the grounding is indeed active, an outlet checker is a reliable tool. You can easily obtain one of these testers from online retailers or local hardware stores. Here is a convenient link to purchase an outlet checker: [Insert link here]. With this device, you can make sure the grounding pin is operational, ensuring your grounding sheet can perform its intended function.
For homes without grounded outlets or in cases where the grounding may not be functioning, grounding rods can be used as an alternative to establish a connection to the Earth for your grounding sheet.
CAN I USE AN EXTENSION CORD WITH EARTHING SHEETS?
HOW LONG DOES IT TAKE FOR GROUNDING SHEETS TO WORK?
This can vary from person to person, as each individual's body responds differently to grounding, also known as 'Earthing.' Some may feel the benefits immediately – a sense of calm, relief from stress, or even reduced inflammation and pain. For others, the effects may be gradual and subtle, developing over a period of days or weeks.

The body is a complex system, and grounding influences it by stabilizing the electrical environment of our organs, tissues, and cells. While some benefits, like feeling more 'grounded' or having a better night's sleep, might be noticed quickly, longer-term benefits related to inflammation and circulation could take longer to become apparent.

It's important to approach grounding with patience and an open mind. Just as a plant doesn't grow overnight, the body may take time to fully respond to the grounding process. To optimize the effects, ensure consistent use of your grounding sheets and integrate other healthy lifestyle practices such as a balanced diet, hydration, and regular physical activity.
CAN I PUT A REGULAR SHEET OVER A GROUNDING SHEET?
Earthing works best if your bare skin is touching the grounded Earthing Harmony products.

Some of the Earth's energy can work through thin layers if there is some moisture in the material which will help to direct the current of the Earth through the material. However, skin contact is best (in nature it works even with just a tip of the finger).

We don't advise using another sheet on top of the Earthing sheet as it may interfere with the conductivity. Our Earthing sheets are very comfortable to sleep on and regular washing is advised for the best results.
CAN I WEAR PAJAMAS WHILE SLEEPING ON EARTHING SHEETS?
Yes, you can wear pajamas while sleeping on earthing sheets. While direct skin contact is optimal for earthing benefits, it is not necessary to sleep naked on the sheet. As long as there are body parts that have direct contact with the sheet, such as arms, legs, or feet, you can wear comfortable pajamas or sleepwear.

However, it's important to note that having uncovered areas of skin in direct contact with the grounding sheet provides more localized targeting for earthing. This can be particularly beneficial if you have specific areas of concern that could benefit from the earthing process, as it may assist in speeding up the healing process in those areas.

It is generally recommended to use the grounding sheet directly on your mattress or bedding without an additional sheet on top. This allows for better conductivity and direct contact with the grounding material, enhancing the effectiveness of the earthing experience.

Remember, the ultimate goal is to have some areas of your body in contact with the grounding sheet during sleep, so choose what feels most comfortable for you while still ensuring direct skin contact in certain areas.
I DON'T HAVE THE 3RD PLUG (GROUNDING) IN MY HOUSE. WHAT SHOULD I DO?
It's possible that some of the houses are not properly grounded or doesn't have the 3rd plug.

The solution for that is to use the Grounding Rod, which is placed directly in the Earth and the other end connects to your Earthing sheet. You can run the cord through a window or under a door and literally into the ground outside. Grounding rods can be used with Earthing sheets and as an alternative to connecting through your power outlets. It's also a great way to make proper Earthing available for when you're traveling, camping etc.. 

Grounding rod is available as an additional purchase and is not included with the sheets.
WHAT ARE EARTHING SHEETS MADE OF?
Our Earthing Sheets are made of 95% high quality cotton and 5% silver. The silver in the sheet serves as a conductive element, allowing the sheet to be grounded, and innovative grid weaving techniques ensure maximum transfer of beneficial free electrons from the Earth directly to your skin.

We understand the importance of both comfort and effectiveness when it comes to our products. During the development of our Earthing Harmony sheets, we made a conscious decision to use a higher percentage of cotton to ensure that our customers are as comfortable as possible (sheets are not scratchy on bare skin and are actually usable) while enjoying the maximum benefits of Earthing.
HOW DEEP ARE YOUR FITTED EARTHING SHEETS?
Our fitted Earthing sheets are designed to provide a comfortable and secure fit for most standard size mattresses. The depth of our fitted sheets is 12", which covers a wide percentage of commonly found mattresses.

This ensures that the sheet stays in place throughout the night and provides consistent grounding benefits. So whether you have a thick or thin mattress, our fitted Earthing sheets are the perfect solution for a comfortable and effective grounding experience.

We understand that our standard fitted sheets with a depth of 12 inches may not fit all mattresses. In such cases, we offer the option of custom orders to accommodate deeper mattresses. However, it's important to note that custom orders incur additional costs and require longer processing times. If you're interested in a custom order, please provide us with the specific measurements of your mattress, and we will gladly provide you with more information regarding pricing and lead time.

Alternatively, we have a solution that may meet your needs. We offer a complete flat sheet without the corner-hugging features found in our fitted sheets. Although this option is not currently listed on our website, it is available for purchase at the same price as our fitted sheet sizes. The flat sheet provides ample fabric to accommodate the depth of your mattress. We recommend selecting a size larger than your mattress dimensions to ensure generous coverage.

Please feel free to reach out to our customer support team for further assistance with custom orders or to inquire about purchasing the flat sheet option. We are here to help you find the best solution for your requirements.
HOW DO I WASH GROUNDING SHEETS?
To maintain the conductivity of your silver-threaded Earthing Harmony sheets, regular washing is essential. This practice helps to remove body sweat and natural skin oils from the silver threads, ensuring their continued conductivity. Follow these guidelines to ensure proper washing and care of your sheets:

DO's:
Wash your sheets weekly or at least twice a month.
Use a washing machine and wash with warm water (approximately 105°F or 40°C).
Line dry your sheets or use a dryer on low heat if needed.
Iron only when necessary on low heat.
Wait for one hour after applying lotions or body oils before touching the sheets.

DON'Ts:
Do not wash with bleach or fabric softener.
Avoid using whitening detergents or oxi-detergents.
Do not use detergents containing oils such as lavender or coconut oil.
Avoid using dryer sheets.
Do not apply lotions or body oils on your skin right before bed.

Note that using any of the products listed above could damage the silver threads and decrease the effectiveness of the sheets or make them nonconductive.

By following these guidelines, you can maintain the conductive properties of your Earthing Harmony sheets and enjoy their health benefits for a longer period of time.
HOW LONG DO GROUNDING SHEETS LAST?
With proper care and maintenance, our sheets are designed to provide you with grounding benefits for a long time. To ensure its longevity, we recommend following the care instructions included with the sheets.

The lifespan of earthing sheets with silver fibers can vary depending on factors such as frequency of use, skin type, skin products used, washing detergent, washing method, care etc. On average, these sheets can last up to two-three years of daily use or more with proper care and maintenance.

It is recommended to wash the sheets on a regular basis to ensure proper conductivity and to avoid buildup of dirt and oils from the skin. Generally, if you notice a decrease in effectiveness or any signs of wear and tear, it may be time to replace the sheets.

Investing in a new set of earthing sheets ensures optimal performance and is a worthwhile investment in your overall health and well-being.